Product Description
1. Phytic acid is used for chromium-free passivation of galvanized layer

In the past, the passivation of the galvanized layer generally used the chromic acid method, which was expensive and caused serious environmental pollution. Phytic acid is used for chromium-free passivation of zinc plating, and its anti-corrosion performance is better than that of various hydrocarbyl phosphonic acids.

2. Anticorrosive coating agent for metal surface

Applying this agent to the surface of iron, zinc, aluminum and alloys, its corrosion resistance and corrosion resistance after painting, as well as the adhesion of the coating film can be greatly improved.

3. Metal antiseptic

This agent is suitable for corrosion protection of metal and alloy surfaces in contact with gas or liquid water.

4. Rinsing agent for phosphating film on metal surface

Zinc-based phosphate film rinsing agent can effectively improve the corrosion resistance of the phosphate film and the paint layer, improve the bonding performance of the phosphate film and the paint layer, and prevent the color change of the spray paint film.

5. Copper corrosion inhibitor

Using copper as a cooling vessel, it is often found that the cooling effect is reduced due to the corrosion of the copper surface. Studies have shown that this is due to the formation of an oxide film on the copper surface, which reduces the thermal conductivity of the copper surface. Adding phytic acid to a preservative composed of hydrazine can solve this problem.

6. Passivation treatment of aluminum and its alloys

In this technical method, aluminum and its alloys are treated in an alkaline aqueous solution containing titanium, zirconium, and iron ions, and then washed and dried with water, and then treated with an acidic aqueous solution containing phytic acid to make it have a good Corrosion resistance, dense coating film, excellent appearance.

7. Surface treatment method of tinned steel sheet and tinned can

8. Metal surface cleaning agent
Phytic acid is an organic phosphoric acid compound extracted from food crops. Its appearance is brown-yellow thick liquid. With its unique physical and chemical properties, phytic acid forms a strong and dense monomolecular protective film on the metal surface to inhibit metal Oxidation corrosion is widely used in metal anti-corrosion, room temperature phosphating, chromium-free passivation and other processes, and has achieved very good results. A large number of application practices have proved that the general promotion and application of phytic acid in metal protection treatment can promote the progress of surface technology.To improve environmental pollution, all have important economic value.
I. Cosmetic Ingredients
1. Phytic Acid
2. Sodium Phytate(Powder)
3. Sodium Hyaluronate (Hyaluronic Acid)
4. Panthenol
II. Food Additive Series:
1. Phytic Acid
2. Sodium Phytate(Powder)
3. Calcium Magnesium Phytate (Phytin)
4. Sodium Saccharine
5. Natural Menthol Crystal
III. Vitamins Series:
1. Inositol
2. Vitamin C
3. Vitamin B9(Folic Acid)
4. Vitamin B1-Thiamine Hydrochloride
5. Vitamin B1-Thiamine Nitrate(Salt)
6. Vitamin B2 (80%)
7. Vitamin B5 (D-Calcium Pantothenate)
8. Vitamin B6
9. Vitamin H(Biotin)
Phytic Acid chemical name

Inositol Hexaphosphate , Inositol hexaphosphoric acid, Fytic acid

Molecular Formula

C6H18O24P6

Molecular Structure

CAS NO.

83-86-3

HS NO.

2919900090

Technical Requirements

GB1886. 237 — 2016

EINECS NO.

201-506-6

Packaging

25kg/plastic drum.

Appearance

Pale yellow or light brown viscous liquid

Physical and chemical properties

Non-flammable and explosive products,

Non-toxic and hazardous products,

Non-radioactive chemicals, a certain acid corrosion.

Application

1. Phytic acid has great chelation ability and is a very good chelating agent.

2. Skin care products made with phytic acid can increase the vitality of skin cells, treat acne, protect skin and promote skin blood circulation

3. The shampoo that contains phytic acid has the action that fight bacterium, restrain dandruff, stop itching.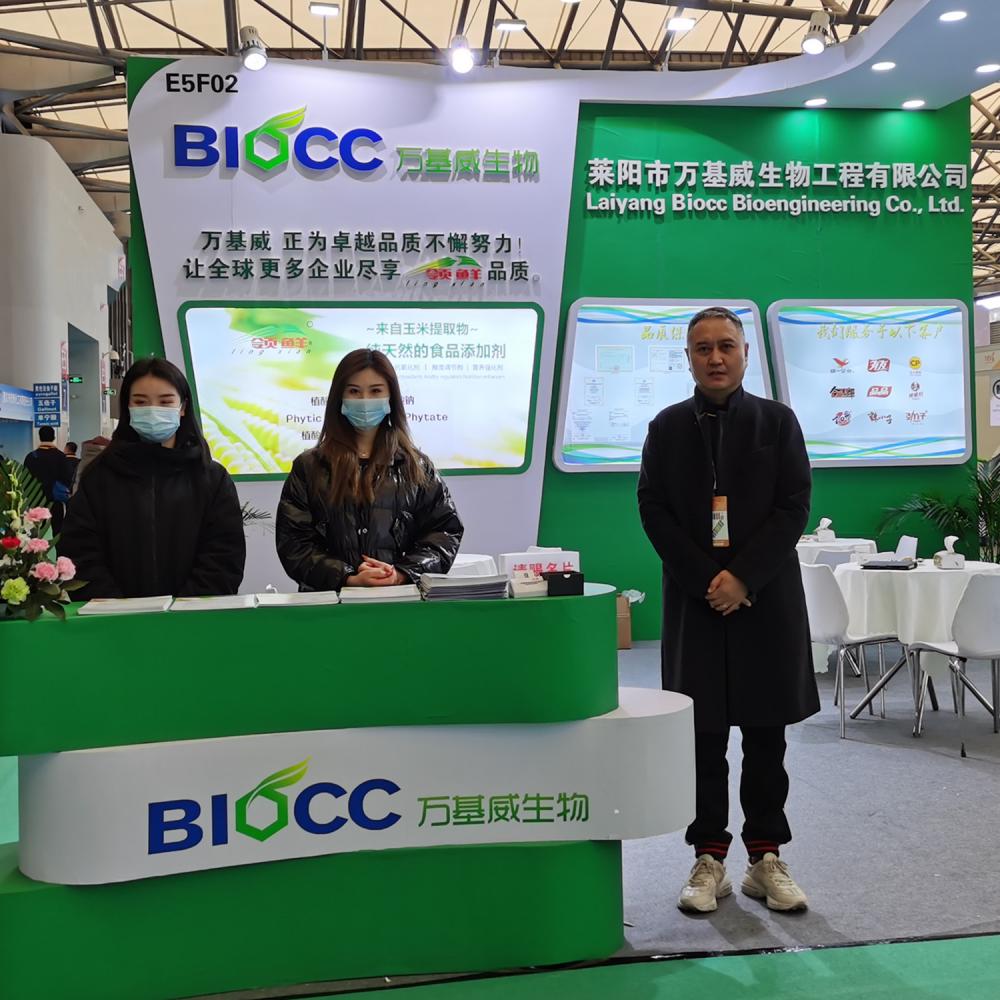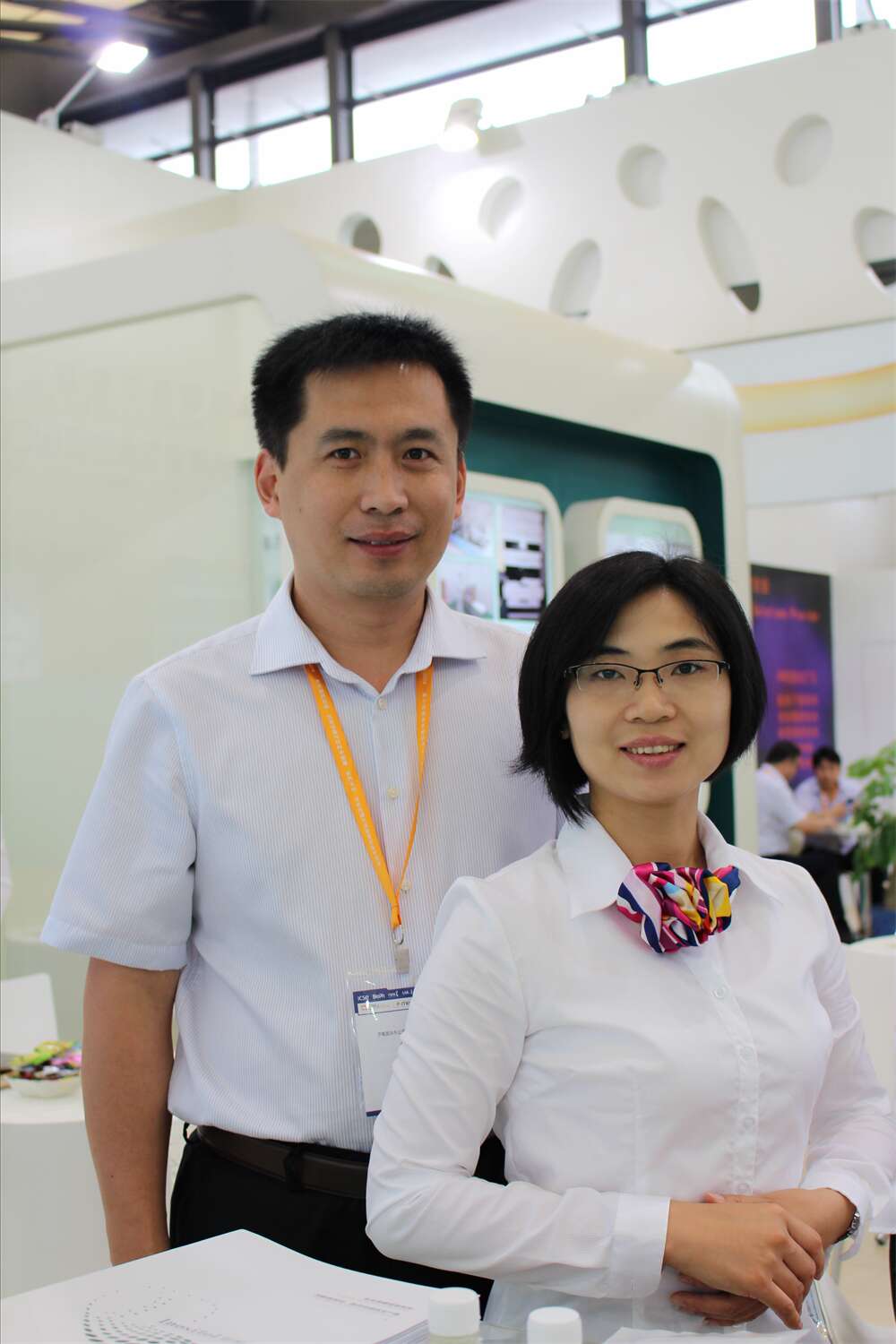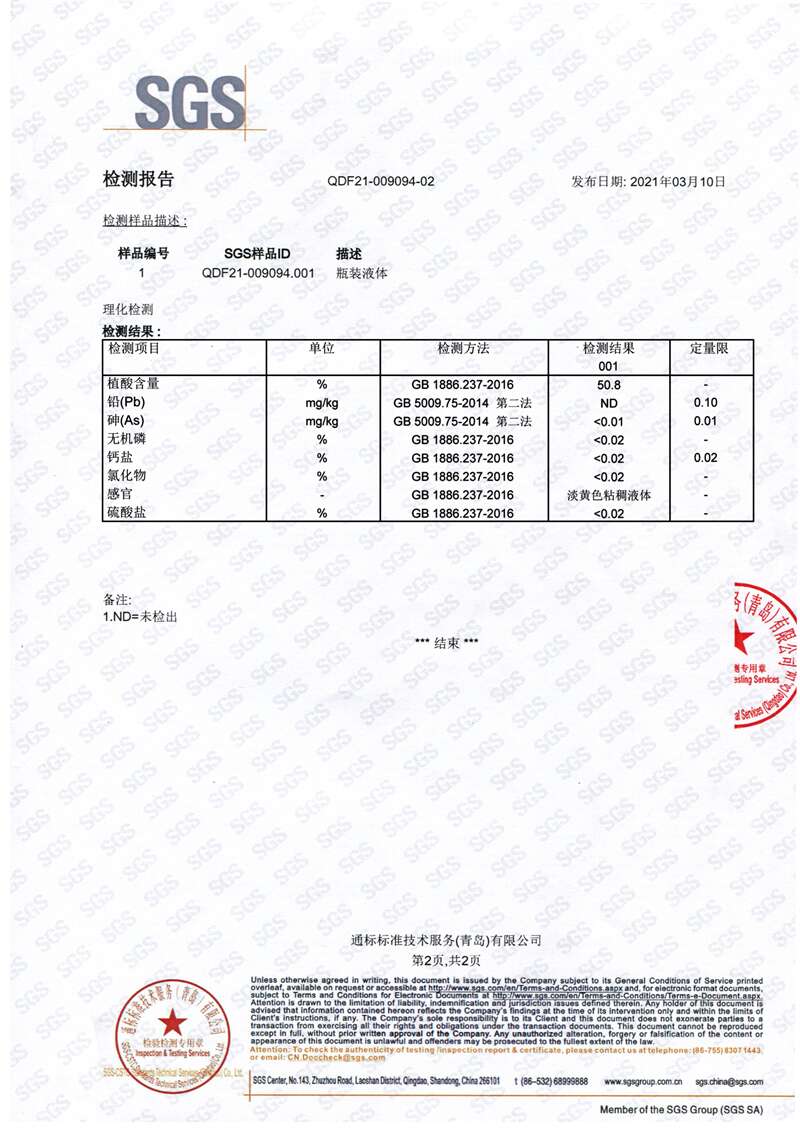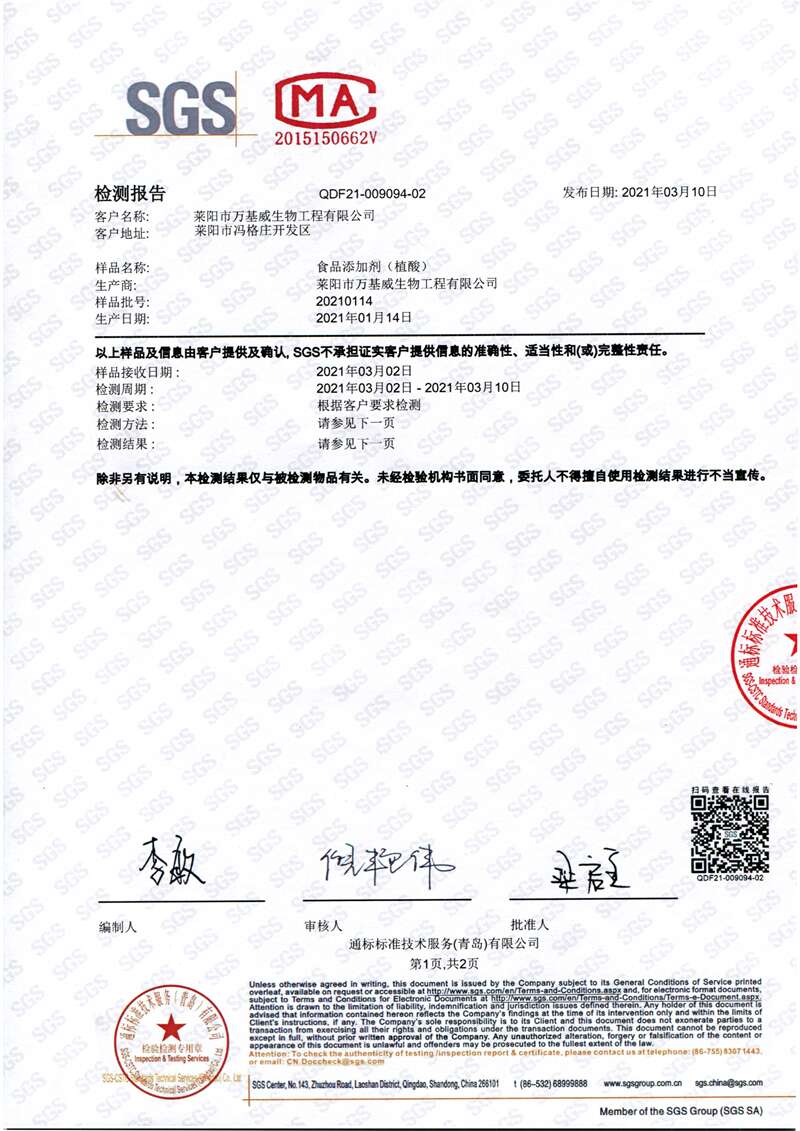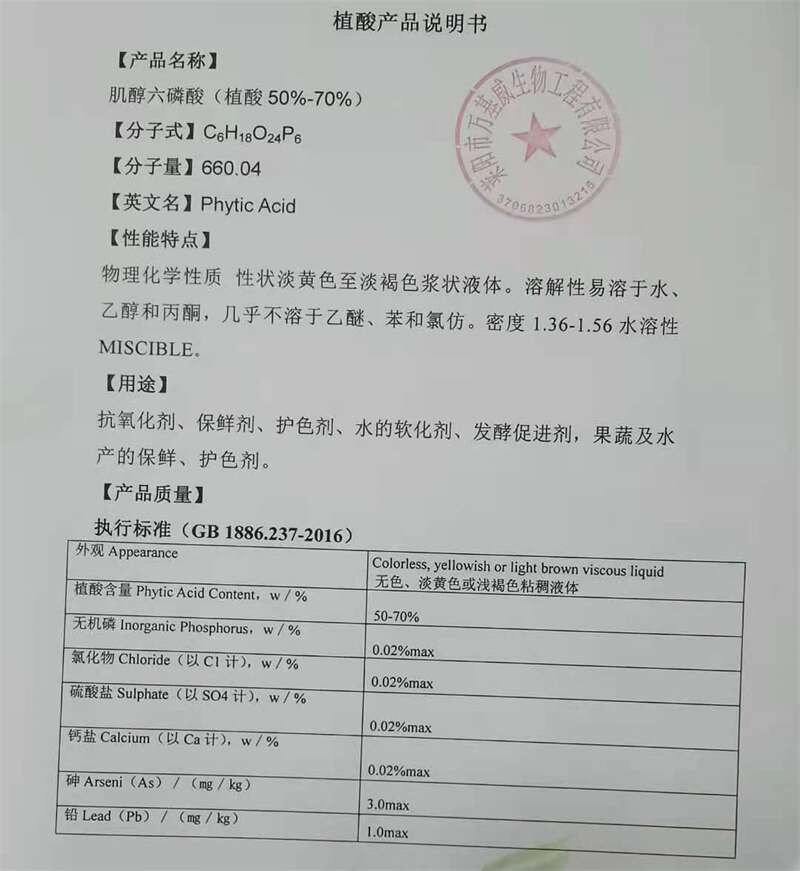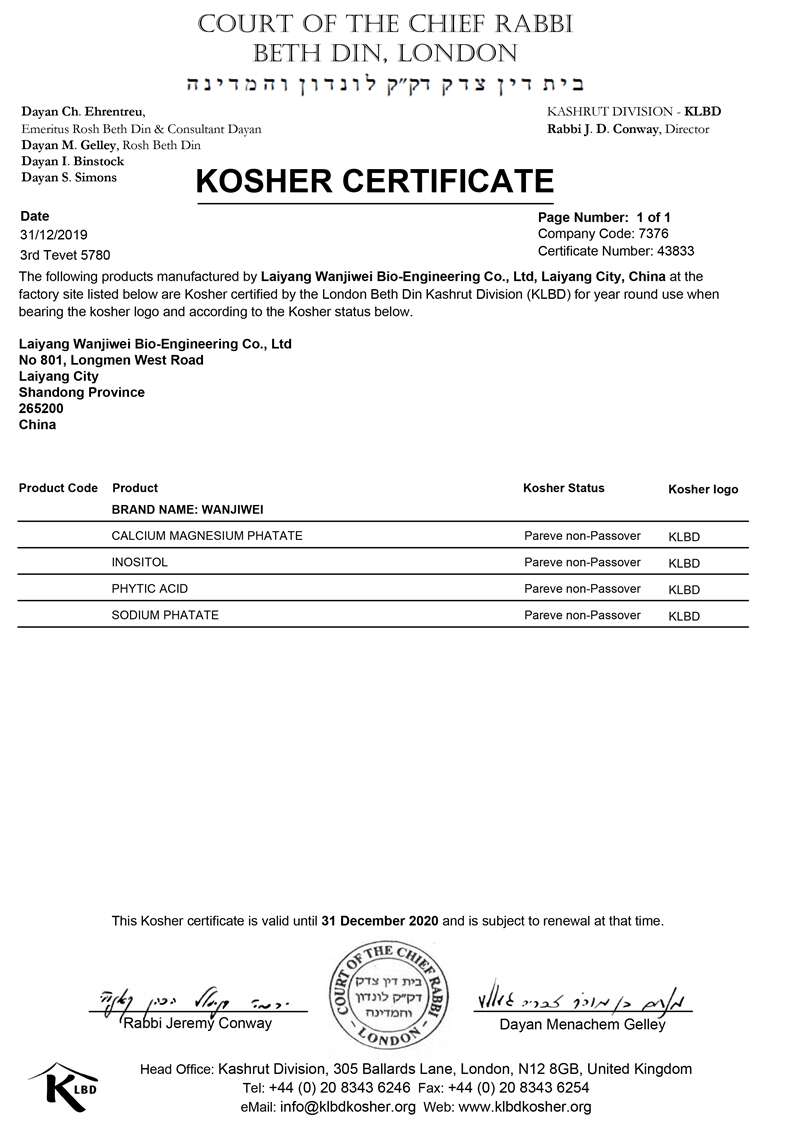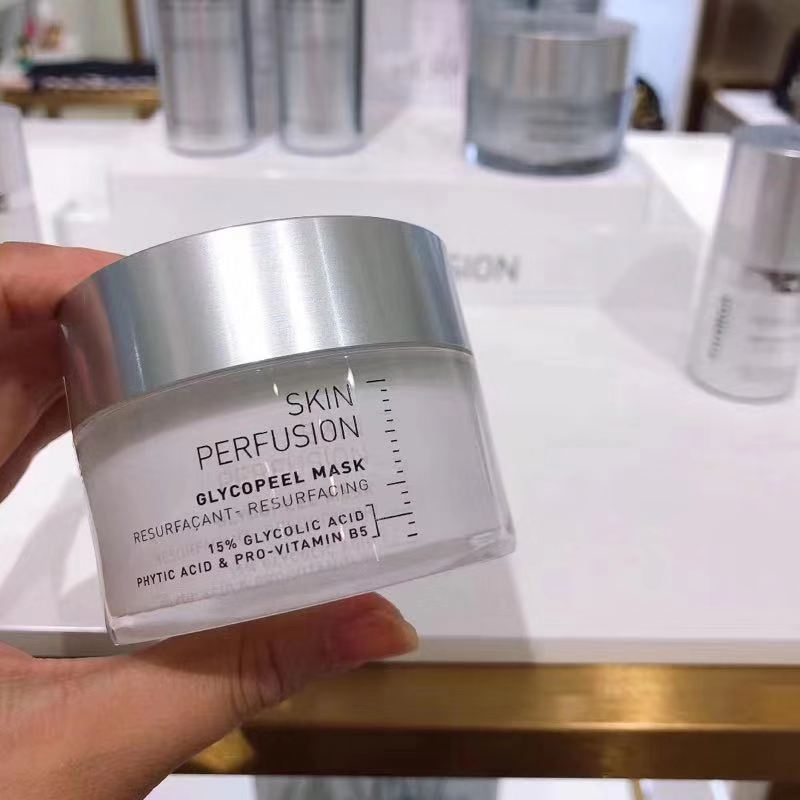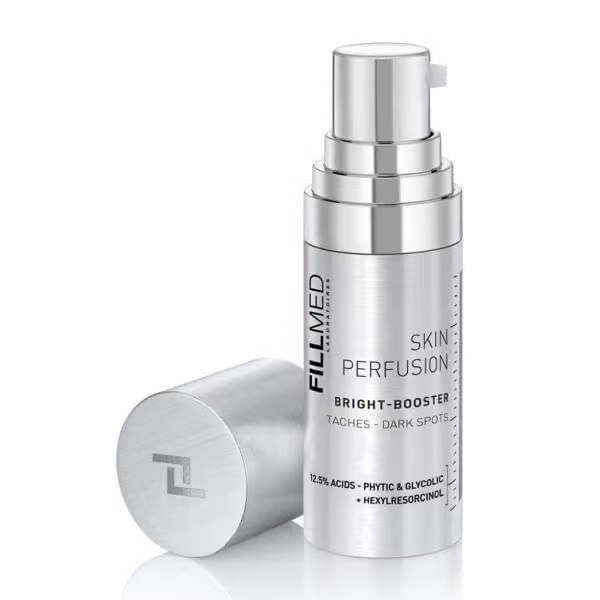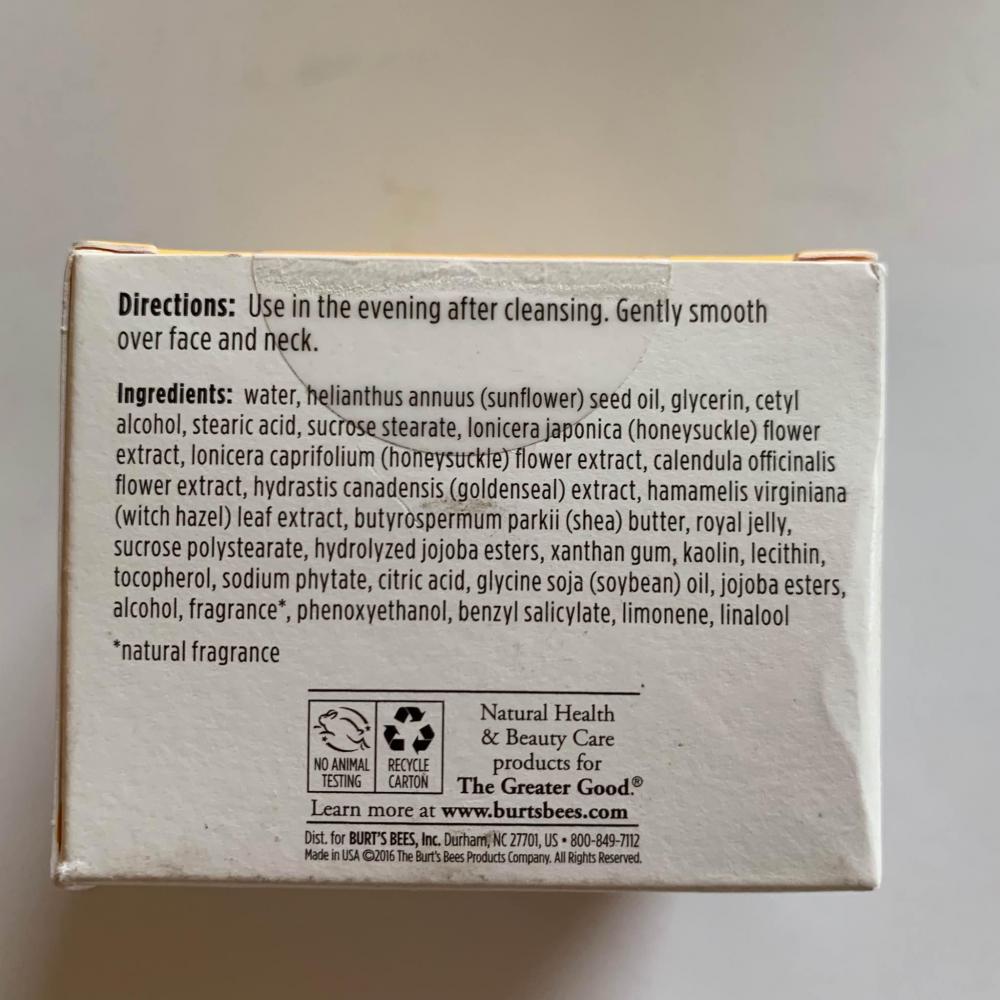 Shandong Fortune Spring International Trade Co., Ltd
Shandong Fortune Spring International Trade Co., Ltd. as a knowledge based company is the excellent [Food additives Feed additive, Cosmetic ingredients and Vitamins " distributor in global market.
The company has started its activity in cooperation with Several famous company and factories since 2018 and now it`s one of the most important company in the sales of Food additive,Feed additive, Cosmetic ingredients and Vitamins.
We proudly offer our products which are complex of innovation and technology based on qualified raw materials.
The advantages of our products include long-lasting freshness, consistent quality, fine volume, and in general higher quality. Each product finds its own special application depending on the final intended product.
Our main products are as follows: phytic acid,Calcium Magnesium Phytate, Sodium Phytate, Inositol, Biotin, Panthenol, Sodium Hyaluronate, Menthol, Folic Acid, D-Calcium Pantothenate, Vitamin B1, Vitamin B2, Vitamin B6, feed additive,food additive ,vitamins and so on.
Some of our international certificate are as bellow:
1. ISO 9001 quality management standard 2. ISO 22000 quality management standard
3. BRC 4. Chinese national standard 5. KOSHER 6. HALAL 7. CGMP 8. FAMI-QS
Production factory introduction
Laiyang Wanjiwei Bio-Engineering Co., Ltd. was established in 1997 and is located in Laiyang Development Zone, the famous "pear" in Yantai, Shandong. The company is located on the west side of Qingdao, close to the Jiqing and Weilai highways, and 90 kilometers away from Qingdao Port. The transportation is very convenient. The company has a land area of 10030.64 square meters, a building area of 5565.9 square meters, company's assets of 16 million yuan, and a registered capital of 5 million yuan. It is a key chemical enterprise in Shandong Province.
The company is committed to the deep processing of Fine Chemicals-phytic acid and phytate series products. The company has an annual output of 1,200 tons of phytic acid, 60 tons of calcium and magnesium phytate, and 60 tons of sodium phytate. The company has advanced instant drying and sterilization equipment and laboratory testing equipment. In the past few years, the products have been exported to more than a dozen countries and regions such as East Asia, Europe and the United States. The annual export volume has reached more than 200 tons, accounting for more than 10% of the company's total output. The quality and service of the products have been welcomed by customers at home and abroad. Established a good reputation and brand.
In the 3000 square meter 100,000-level GMP workshop, every production process of the production line, all production personnel are strictly in accordance with: SC production license management system, ISO9001 international quality management system, HACCP international food safety management system production process for all-round quality manage. With strict and demanding quality management and international excellent production equipment, Wanjiwei has provided many countries in the world with high-quality, safe, environmentally friendly and natural products. Wanjiwei is making unremitting efforts for excellent quality! Let global enterprises enjoy the quality of "lingxian" .
Product List
Cosmetic Ingredients:
Phytic Acid in cosmetics
Sodium Phytate for daily chemicals
Sodium Hyaluronate
Panthenol
Food Additive Series:
Phytic Acid Food Grade
Sodium Phytate Food Ingredients
Calcium Magnesium Phytate Phytin
Sodium Saccharine Food Grade
Natural Menthol Crystal
Inositol Food Grade
Vitamins Series:
Inositol Nutrient Fortifier
Vitamin C Nutrient Fortifier
Vitamin B9 Nutrient Fortifier
Folic Acid Nutrient Fortifier
Thiamine Hydrochloride Nutrient Fortifier
Thiamine Mononitrate Nutrient Fortifier
Vitamin B2 Nutrient Fortifier
D-Calcium Pantothenate Beauty Skin Care
Vitamin B6 Food Additives
Biotin Food Grade
Feed additive:
Inositol NF38
Vitamin C Feed Additive
Vitamin B9 Feed Grade
Folic Acid Feed Grade
Thiamine Hydrochloride Feed Grade
Thiamine Mononitrate Used As Animal feed
Vitamin B2 80%
D-Calcium Pantothenate Used As Animal Feed
Vitamin B6 Feed Additives
Vitamin H
Biotin 2%
Sodium Saccharine Feed Ingredients
Company Name: Shandong Fortune Spring International Trade Co., Ltd
Representative: MA SHENG CHUN
Product/Service: Phytic Acid , Sodium Phytate Food Grade , Calcium Magnesium Phytate , Panthenol Cosmetic Ingredients , Vitamin C Food Grade , Inositol NF
Capital (Million US $): 3000000RMB
Year Established: 2018
Total Annual Sales Volume (Million US $): US$10 Million - US$50 Million
Export Percentage: 91% - 100%
No. of Production Lines: 3
No. of R&D Staff: 5 -10 People
No. of QC Staff: 5 -10 People
OEM Services Provided: yes
Factory Size (Sq.meters): 1,000-3,000 square meters
Factory Location: YANTAI,SHANDONG,CHINA
Contact Person: Mr. Eric Ma
Tel: +86-166-53159028