Peptide Lyophilized Powder Acvr2b / Ace031 / Ace-031 1mg/Vial for Muscle Gaining
Basic Info
Model No.: Acvr2b / Ace031 / Ace-031
Product Description
Model NO.: Acvr2b / Ace031 / Ace-031 Customized: Non-Customized Suitable for: Adult Purity: >99% Other Name: Acvr2b Assay: 98% Packing Method: Foil Bag or Vial Express: TNT, UPS, DHL, EMS, Hkems, FedEx Trademark: SBJ Origin: China Powder: Yes Certification: GMP, ISO 9001, USP State: Solid Product Name: Ace-031 Appearance: Lyophilized Powder Specificat: 1mg/Vial Delivery: Within 24hours After Your Payment Payment: Western Union, Moneygram, Bitcoin Specification: GMP HS Code: 3001200020
ACVR2B (ACE-031)
Weird name huh? What's weirder is how its made. 
What is It? 
ACVR2B (ACE-031) has to be the coolest and strangest thing out there.  It is a monoclonal antibody genetically engineered to bind to myostatin before myostatin can bind to its receptor and stop muscle growth. 
What is Myostatin and Why Stop It? 
I have already covered this in detail in my myostatin article. (the word myostatin is red because it is a hyperlink, click on it to learn more about myostatin.) 
Simple simple simple version: Myostatin tells muscle cells to not grow and not to replicate. Blocking myostatin will help muscles get bigger, to date there has been only Follistatin that is widely used to block myostatin. 
How is it made? 
This is how bad people want to stop myostatin, to simply run an experiment this is what they had to do: 
1)  Take a portion of human DNA that had the genes necessary to code for JUST THE TIP of the myostatin receptor, not the whole thing, just the tip. This was the part that binds to the myostatin protein. 
2) Ran a polymerase chain reaction to amplify this gene fragment, but not before they added genetic code so that the digestive enzymes would cut at the precise right location on this synthesized DNA. 
3) The new gene, the tip of the myostatin receptor, was attached to a human antibody backbone. Then a bacteria's DNA was removed in part and this new gene was spliced into the bacteria DNA's place. This was all  packaged in with a genetic signal to amplify our new frankengene's expression. 
4) What we now have is a vector for our new gene. This bacteria will infect the host with the new DNA and the signal for transcription is amplified in the host organism. Like a Trojan Horse which makes its own Greek soldiers, forever.  This will produce the actual antibodies that specifically bind to myostatin. This vector was injected into Chinese hamster ovary cells. 
Can't make this stuff up. 
5) The genes are expressed and the antibodies are now free in the hamster cells, the hamster serum is then filtered through a column engineered by GE (makers of washers, dryers, blenders and now hamster ovary cell filters) to grab these antibodies out of the hamster cell serum. 
6) These purified antibodies are named ACE-031 and injected into male mice at a concentration of 10mg/kg.  That means a adult bodybuilder would have to use 1 gram a month.  Gold is $42 a gram.  ACE-031 is $150,000 a gram.   A gram. is $100 per gram. Can you imagine the drug trade for this if it catches on? It is literally almost 4,000 times more valuable than gold. 
In this study it was determined that the muscle fiber types I and type II were increased in size (Up to a 22% size increase)  but not in number, There was no hyperplasia.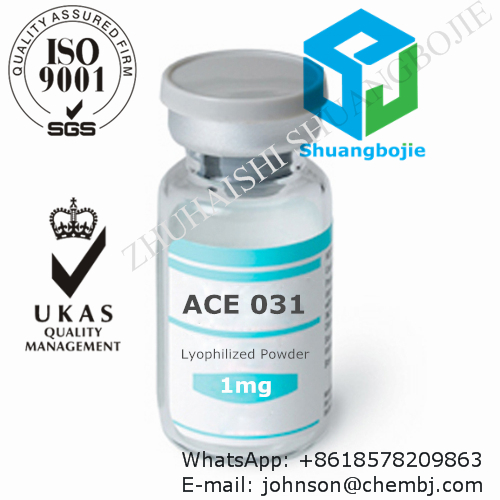 | | | | |
| --- | --- | --- | --- |
| MGF | 2mg/vial | Hexarelin | 2mg/vial |
| PEG MGF | 2mg/vial | Sermorelin | 2mg/vial |
| CJC-1295 with DAC | 2mg/vial | Oxytocin | 2mg/vial |
| CJC-1295 without DAC | 2mg/vial | TB500 | 2mg/vial |
| PT-141 | 10mg/vial | BPC 157 | 2mg/vial |
| MT-1 | 10mg/vial | H Frangment 176-191 | 2mg/vial |
| MT-2 | 10mg/vial | Triptorelin | 2mg/vial |
| GHRP-2 | 5mg/vial | Tesamorelin | 2mg/vial |
| GHRP-2 | 10mg/vial | Gonadorelin | 2mg/vial |
| GHRP-6 | 5mg/vial | Gonadorelin | 10mg/vial |
| GHRP-6 | 10mg/vial | DSIP  | 2mg/vial |
| Ipamorelin | 2mg/vial | Selank | 5mg/vial |
| AOD-9604 | 2mg/vial | Follistatin 344 | 1mg/vial |
| ACE 031 | 1mg/vial | GDF-8 | 1mg/vial |
Contact us if you need more details on Ace-031 / Ace031. We are ready to answer your questions on packaging, logistics, certification or any other aspects about Acvr2b、Polypeptide. If these products fail to match your need, please contact us and we would like to provide relevant information.
Product Categories : Peptides and human growth steroid